Call us at 518-801-1491 – All calls are confidential
WHAT WE OFFER:
Connections to Care without Barriers –  Please note that our services are confidential. We can also help cover the cost of treatment, if needed
One on One Therapy Sessions – For individuals and family members adversely impacted by problem gambling looking for one-0n-one support. Financial assistance and telehealth  sessions are available.
Peer Support Groups – For individuals interested in support from peers with lived experience. Groups meet in-person, via zoom or on the phone.
Clinician Led Groups  – For individuals interested in groups led by our trained problem gambling treatment providers.

Screening Tools

– Does your organization screen for problem gambling? Join us in saving lives with our  simple screening tools, view here.

Education

– Are you familiar with Problem Gambling, Prevention, Warning Signs and Supports? We offer free in-person and virtual presentations and trainings (continuing education credits are available). Contact Team Leader, Cas Farrugia at

[email protected]

to schedule a training for your students, staff or community members.
Online Resources – Our online resources are available to all. We encourage individuals, families and communities to learn more about problem gambling, how to join us in raising awareness and connecting those adversely impacted connected to supports and services.
Awareness & Outreach – Interesting in supporting your community? Follow us and share our messaging on your social media, websites and locations to raise awareness on problem gambling and its impact.  Contact us at

[email protected]

to learn more ways to get involved! We also encourage you show your support by posting our partner seal: 
What's New: 
Northeast PGRC featured in the News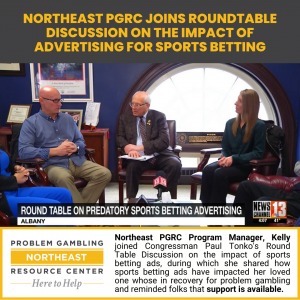 Northeast PGRC Program Manager, Kelly joined Congressman Paul Tonko's Round Table Discussion on the impact of sports betting ads, during which she shared how sports betting ads have impacted her loved one whose in recovery for problem gambling and reminded folks that support is available.
Read articles here:
Shining A Light on Problem Gambling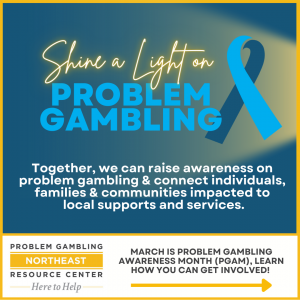 With the rapid expansion of gambling and the record-breaking introduction of mobile sports betting, there is no better time to bring the issue of problem gambling to the forefront. The New York Council on Problem Gambling (NYCPG) and its seven regional Problem Gambling Resource Centers (PGRCs) are calling on everyone to "shine the light" on problem gambling during Problem Gambling Awareness Month (PGAM) during March 2023.
The Council's newest effort, and a driving force behind this year's Shine the Light theme, involves several notable places in New York joining NYCPG and its PGRCs to recognize March as Problem Gambling Awareness Month by illuminating local landmarks. Not only are we shining the light on the issue of problem gambling, we also want that light to be a beacon for anyone who might be negatively affected by a gambling problem – there is hope and help! If you or someone you know is experiencing things like distress, financial problems, or relationship conflicts because of gambling, contact us for confidential support.
List of Participating Northeast Landmarks for 2023
Albany International Airport Gateway

The H. Carl McCall Suny Building

State Education Building

Alfred E Smith State Office Building
Empire State Plaza

Albany International Airport Gate

Suny Plaza
We thank all our trusted partners and community champions for supporting our efforts. If are interested and/or are planning to support our campaign, please complete this survey. Please contact [email protected].org to learn more.

March is Problem Gambling Awareness Month! We encourage individuals, agencies and communities alike to come together and join us in our efforts to raise awareness. Together, we can prevent individuals, families and communities from being adversely impacted by gambling and connected those in need of support services! Here are a few ways to get involved:
Share posts & info on PGAM on your social media, website and in newsletters

Share PGAM materials at your locations

Host a Screening Day (click here to checkout our e-screener, screening saves lives), Presentation & Training

Join our Clinical Network

Attend the NYCPG Annual Conference

Join the Northeast Community Partnership Advisory Council
Learn more here: www.NYProblemGambling.org/PGAM  
Partner Highlight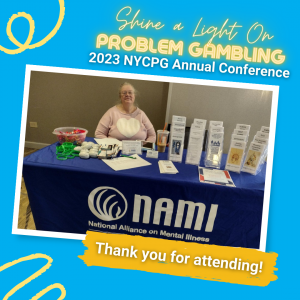 Thank you NAMI Capital Region for attending our Annual NYCPG Conference! 
NAMI CR provides free mental health advocacy, education, support, and public awareness so that all individuals and families in the Capital Region impacted by mental illness can build better lives.
Click here to view NAMI CR Calendar and learn more about Peer and Family Support Groups.
Recovery Resources – #TalkingHelps
We understand the importance of peer support when it comes to problem gambling. Listening and learning from someone with lived experience is a valuable asset to someone's recovery journey.  We are so fortunate to have so many partners in recovery with lived experience who are willing to listen to others and share their experiences with others.
Check out these amazing resources, podcasts and YouTube channels: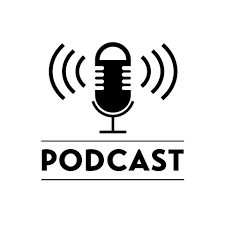 Learn with us! If your organization is interested in learning more about problem gambling through an in-person or virtual training, email us at [email protected]
NYCPG Resource Library – Information at Your Fingertips!
Check out the NY Council on Problem Gambling Resource Library.
About the Northeast Problem Gambling Resource Center
The Northeast Problem Gambling Resource Center is a program of the New York Council on Problem Gambling, which is funded by the New York State Office of Addiction Services and Supports. At Northeast PGRC, our goal is to addressing problem gambling within the Northeastern region of New York through raising public awareness and connecting individuals, families, and communities adversely impacted to supports and services. Our team is dedicated to reducing barriers to care for our communities.
We serve 15 counties: