Military Appreciation Month
In honor of May being National Military Appreciation Month, NYCPG is proud to continue celebrating and recognizing the service of our past and present servicemen and servicewomen by acknowledging their service and how that service may have affected them. 
What can we do?
Thanking someone for their service is kind and an acceptable notion to express gratitude. Taking that gratitude to another level is learning about military culture and understanding how that culture and service impacts everyone, including family members, differently.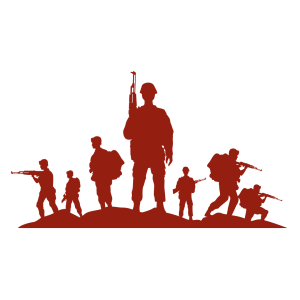 Problem gambling behavior is a complex issue. To simplify the matter, know these key points: 
Veterans are 2x to 4x more at risk of developing PG behavior than their civilian counterparts.

 

Veteran-serving mental health and addiction service providers DO NOT screen for problem gambling behavior.

 

Problem gambling among Veterans often co-occurs with conditions such as post-traumatic stress, substance use disorder, military sexual trauma, depression, and anxiety.

 

40% of veterans seeking treatment for problem gambling behavior have attempted suicide. Gambling addiction poses the most significant risk for suicidal behavior than other addictions.

 
( Etuk, et.al.,, 2020.) 
Being informed and aware of the warning signs for problem gambling is our first offense to implement change for this issue. 
Talk about it.
Whenever the opportunity presents itself, talk about the risk problem gambling poses for the Veteran community. Ask your healthcare provider if they screen for problem gambling behavior. If they do not, suggest our resource library, and they can read peer-reviewed literature that provides data on the risk for suicide and prevalence among other co-occurring conditions. 
Ask the questions.
Ask friends and family who have served about their experience(s) gambling while in the military; this often leads to great conversation and exposes the normalcy of gambling within the military culture. Know the warning signs for problem gambling. 
Know where to turn.
If you or someone you know is unsure if gambling may lead to problems, take this self-assessment tool online. Help is available. Find support for you or a loved one at one of our Problem Gambling Resource Centers.