Call NOW for Help


(315) 413-4676



CentralPGRC@NYProblemGambling.org
What's New:
NEW YORK COUNCIL ON PROBLEM GAMBLING LAUNCHES CAMPAIGN TO PROMOTE STRENGTH AND COLLABORATION IN FIGHTING PROBLEM GAMBLING IN NEW YORK STATE
Albany, NY, November 1, 2021 – StrongerThanYouThinkNY is the message the New York Council on Problem Gambling (NYCPG) is releasing to NYers today, in an effort to raise awareness about problem gambling.  The People, Purpose, Passion: Pathway to Success campaign debuts today on various media platforms, encouraging NYers to show their support for problem gambling prevention, treatment, and recovery.  The campaign aims to inspire individuals, families, professionals, and advocates across NYS to take action in finding their own pathway to success and to become partners with NYCPG.  The multifaceted campaign encourages:
individuals and families to reach out for information and support
professionals to be aware and trained to address the issue, and
legislators and advocates to take the time to understand the impact problem gambling has on their communities and constituents.
If you are inclined to find YOUR pathway to success visit the campaign website, you'll be greeted with what's been described by a NYCPG's partner as a "positive and inviting feel, that demonstrates the Council's ongoing commitment to education, professionalism and passion".
Council Executive Director, Jim Maney, shared, "through this campaign we are promoting the collective power we all have, and will NEED, to address problem gambling in the state of NY.  With mobile sports betting arriving here in less than 3 months, we must let everyone know there is hope and help if they are struggling."
Last week the campaign was unveiled at the Council's 2021 Annual Statewide Problem Gambling Conference, to over 400 professionals and recovery advocates who are already dedicated to learning more about addressing this important issue.  These professionals will be the first to show their support for the cause and for the Council's efforts by doing the following:
downloading the Partner Sealto show support on their website or social media pages
sharing their story of problem gambling, recovery, or advocacy
taking action to educate others by sharing the campaign site
"We all have a role to play in combating problem gambling", said NYCPG Assistant Executive Director of Program, Michelle Hadden, "while we are neither for nor against gambling, we are against the problems that come with it.  Shame and stigma only continue if we stay quiet, this disorder is impacting hundreds of thousands in NYS and yet remains hidden.  Join us in the coming months to raise awareness and show your support for bringing the realities of this addiction to the forefront."
For more information on the People, Purpose, Passion campaign or to chat with someone immediately for help, please visit StrongerThanYouThink.org.
If you are looking for support and services to help you begin your pathway to recovery from problem gambling, reach out to the Central PGRC by calling 315-413-4676 or emailing CentralPGRC@NYProblemGambling.org. All calls are confidential. We're here to help!
*Do you know someone who may need help with their gambling? Do you know the WARNING SIGNS of problem gambling? We are here to help answer all your questions!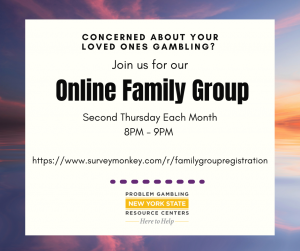 Concerned about your loved one's gambling, click here to register for our online family group.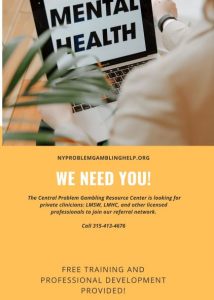 Are you or someone you know interested in joining our clinical network to help treat those individuals and family members who are adversely impacted by problem gambling? If so give us a call to learn more at 315-413-4676 or email CentralPGRC@NYProblemGambling.org
About:
The Central Region PGRC is a program of the New York Council on Problem Gambling, which is funded by the New York State Office of Addiction Services and Supports.  The Central PGRC is dedicated to addressing the issue of problem gambling within the Central New York region through increasing public awareness and connecting those adversely affected with services that can help them.
The Central PGRC is dedicated to the positive transformation of lives harmed by problem gambling. This vision of transformation includes individuals with a gambling problem as well as their families and communities. With a focus on supporting the individual and reducing barriers to care, the Central PGRC is truly the premier organization providing problem gambling services in the central region of New York State.