Call NOW for Help


(315) 413-4676



CentralPGRC@NYProblemGambling.org
What's New:
Register today!  For our NYCPG Annual Conference on Problem Gambling. This year's theme is People, Purpose, and Passion: The Pathway to Success. We have prevention, treatment, and recovery tracks so there is something for everyone! Come join us and enjoy two days of virtual learning and networking for only $20! We are offering OASAS, LMHC, and SW credits. Click to register: https://nycpg.dialogedu.com/virtualconference    We look forward to seeing you!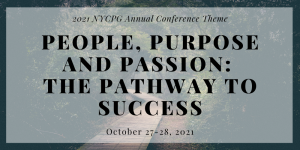 Fall has arrived in Central New York, everywhere you look there are apples, pumpkins, and the leaves are just starting to turn.  We are looking for opportunities to be out in our community's spreading awareness and connecting individuals and families to help.  If you have an event coming up, and have opportunities for partners to table, let us know, we would love to be a part of your community's activities.
Below is an article that was published in a few local media publications.  Should you have a newsletter, website, or publication that you would like to use this article. let us know and we would be happy to provide you with a file that could easily be used.
Healthy Alternatives to Gambling 
We live in a digital world; one where anything of desire can be found right at our fingertips. This accessibility may be beneficial for a lot of things, including grocery delivery, ordering gifts, and texting an old friend. However, when it comes to risky behaviors such as gambling, the increase in availability may pose a potential issue, especially for those who struggle with problem gambling. Gambling means to risk something of value on a game of chance, in the hopes of a desired outcome. Many people gamble without a problem. However, about 5% of adults in New York state have developed a problem with gambling. This could be anytime their gambling has caused serious issues in their lives including relationship issues, financial struggles, and even work-related problems. The legalization of mobile sports betting in New York State is set to begin this fall. Therefore, in preparation, the Central Problem Gambling Resource Center has created a "healthy alternatives to gambling" guide to assist those who want to keep the odds at bay.
If you're looking for a little EXCITEMENT or rush…. try participating in a SPORT or HOBBY through your local community center.
If you're looking to be more SOCIAL or not feel so ISOLATED… try joining a social group or CLUB, VOLUNTEER in your community, CONNECT with family and friends or enroll in a CLASS
If you're looking for a DISTRACTION or are experiencing UNPLEASANT FEELINGS… try talking to a COUNSELOR
If you're BORED or LONELY… try finding something you're passionate about like ART, MUSIC, SPORTS, or READING
If you're looking to RELAX after a STRESSFUL day…. try YOGA, EXERCISE, DEEP BREATHING, or getting a MASSAGE
If you're looking to solve MONEY PROBLEMS…. try seeking help from a CREDIT COUNSELOR
If you are struggling with gambling issues, HOPE and HELP is a phone call away
We can get you connected to the supports and services you need. Simply give us a call at 315-413-4676 or send us an e-mail at CentralPGRC@NYProblemGambling.org.    All calls are confidential.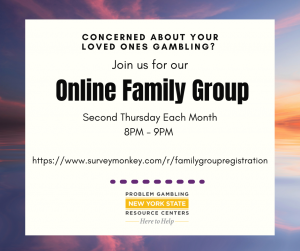 Concerned about your loved one's gambling, click here to register for our online family group.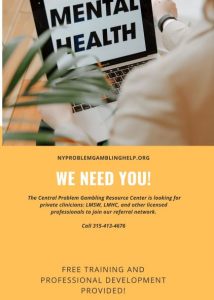 Are you or someone you know interested in joining our clinical network to help treat those individuals and family members who are adversely impacted by problem gambling? If so give us a call to learn more at 315-413-4676 or email CentralPGRC@NYProblemGambling.org
About:
The Central Region PGRC is a program of the New York Council on Problem Gambling, which is funded by the New York State Office of Addiction Services and Supports.  The Central PGRC is dedicated to addressing the issue of problem gambling within the Central New York region through increasing public awareness and connecting those adversely affected with services that can help them.
The Central PGRC is dedicated to the positive transformation of lives harmed by problem gambling. This vision of transformation includes individuals with a gambling problem as well as their families and communities. With a focus on supporting the individual and reducing barriers to care, the Central PGRC is truly the premier organization providing problem gambling services in the central region of New York State.