Call NOW for Help


(315) 413-4676



CentralPGRC@NYProblemGambling.org
What's New:
Hello Central Region partners and supporters.  As we move from spring to summer months, we hope that you are staying cool and enjoying this wonderful weather.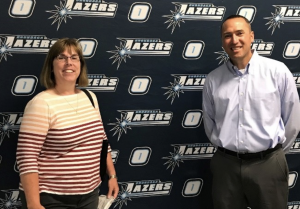 Special thanks to Onondaga Community College Athletic Director, Mike Borz, for seeing the value in educating OCC's student-athletes on the risks and warning signs of problem gambling.  Also, thank you to Shelley Schmidt and Elizabeth Gifford from Bryant & Stratton College for taking time to discuss problem gambling among college students and young adults with us. We are looking forward to providing more resources and education to college students throughout the Central Region!  Should you want some of our resource materials, training for college staff or students, please reach out to us we would love to partner with you. (315) 413-4676. 
Shout to our partners and colleagues in the Finger Lakes and Northeastern Regions. We had a wonderful time offering the Emerging Trends in Problem Gambling training to folks across Upstate New York.  Thank you to those who joined and participated with us!  
We are continually looking to expand our network of Problem Gambling Treatment Specialists across our 13–county region.  We are seeking private practitioners interested in helping those with a gambling disorder.  We provide free training and professional development. For more information, please email us at CentralPGRC@NYProblemGambling.org. 
About:
The Central Region PGRC is a program of the New York Council on Problem Gambling, which is funded by the New York State Office of Addiction Services and Supports.  The Central PGRC is dedicated to addressing the issue of problem gambling within the Central New York region through increasing public awareness and connecting those adversely affected with services that can help them.
The Central PGRC is dedicated to the positive transformation of lives harmed by problem gambling. This vision of transformation includes individuals with a gambling problem as well as their families and communities. With a focus on supporting the individual and reducing barriers to care, the Central PGRC is truly the premier organization providing problem gambling services in the central region of New York State.