Call NOW for Help
(516) 226-8342

LongIslandPGRC@NYProblemGambling.org
What's New:
Happy Summer, Long Island! 
We hope that you are staying cool and enjoying all that Long Island has to offer in the summer.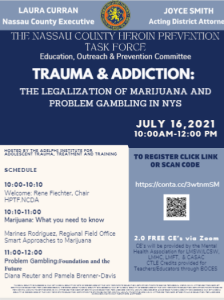 A HUGE thank you goes out to The Nassau County Heroin Prevention Task Force for hosting the Long Island PGRC as a part of their ongoing education series, on July 16th. LIPGRC staff members Diana Reuter and Pam Brenner-Davis presented information about Problem Gambling, emerging trends, and the impacts of COVID-19, as well as the ongoing changes to NYS legislation. If you missed the training and would like to host this virtual event in our own organization, please contact Pam at LongIslandPGRC@nyproblemgambling.org 
We are grateful to our partners for sharing out information about the PGRC and bringing care to those in need. As our program grows, we are looking to expand our network of Problem Gambling Treatment Specialists across Nassau and Suffolk Counties. We are seeking clinicians in private practice who are interested in helping those with a gambling disorder.  NYCPG provide free training, clinical supervision, assistance with claims, and professional development.  
We look forward to partnering with all of you! 
About:
The Long Island Region PGRC is a program of the New York Council on Problem Gambling, which is funded by the New York State Office of Addiction Services and Supports.  The Long Island PGRC is dedicated to addressing the issue of problem gambling in Long Island through increasing public awareness and connecting those adversely affected with services that can help them.
The Long Island PGRC is dedicated to the positive transformation of lives harmed by problem gambling. This vision of transformation includes individuals with a gambling problem as well as their families and communities. With a focus on supporting the individual and reducing barriers to care, the Long Island PGRC is truly the premier organization providing problem gambling services in the Long Island region of New York State.