Help for Gambling Addiction on Long Island!

If you or a loved one would like help with a gambling problem, call
516-226-8342
or email us today at
LongIslandPGRC@NYProblemGambling.org
We offer many types of resources for individuals, as well as family members, impacted by problem gambling. Our services are confidential. We can help cover the cost of treatment, if needed.
SERVICES AVAILABLE:
One to one therapy sessions
Peer support groups
Clinician led groups
Resource referral
Additionally, we work with community groups to learn about gambling. Rather than waiting for a problem, learn to be proactive! Reach out to schedule a conversation or training today!
What's New:
We are thrilled to welcome our newest Clinician to join the LIPGRC team Jessica A. Guevara, LCSW-R.
"As a Licensed Clinical Social Worker, I have had an interest in helping clients with different facets of mental health and/or problem behaviors. While speaking with a colleague one day, she had brought to my attention the unfortunate lack of services for Problem Gamblers who were making efforts to reach out for help. Due to our recent COVID times, I was given the time to research and educate myself, and found my interest and desire to assist those who are searching for problem gambling treatment. I look forward to being a part of helping those individuals towards improving their overall emotional, mental and even physical well-being."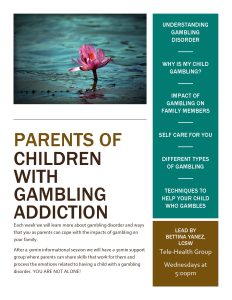 Parents of young people with gambling problems call us every day. These parents want to learn how to set boundaries, while supporting their children and families. As a resource to these parents, the LIPGRC has created a parent support group. Our virtual group will give parents in similar situations a chance to support each other, under the guidance of a Problem Gambling Addiction Specialist. If you have interest in joining this group call today!
Problem Gambling in New York State…
About:
The Long Island Region PGRC is a program of the New York Council on Problem Gambling, which is funded by the New York State Office of Addiction Services and Supports.  The Long Island PGRC is dedicated to raising awareness of problem gambling. The goals are to increase public awareness and connect those adversely affected with services that can help them.
The Long Island PGRC is dedicated to the positive transformation of lives harmed by problem gambling. This vision of transformation includes individuals, families, and communities. With a focus on supporting the individual and reducing barriers to care, the Long Island PGRC is truly the premier organization providing problem gambling services in the Long Island region of New York State.