Call or Text NOW for Help


(914) 

2

15-6440




Mid-HudsonPGRC@NYProblemGambling.org
What's New:
How are you finding balance in your life?  How are you dealing with the changes and stressors that may come and go as time goes by? Spring reminds us that we have entered a new season: a season of new beginnings, a season to help us find balance in our lives.  Studies show that escapism is one of the many indicators of a person who is struggling with gambling.  Some use alcohol to escape, some use substances to escape, and some may combine all three and others to escape what life may have thrown at them.  An individual can use gambling as a form of escaping by taking constant trips to the casino, going to the corner store and purchasing lottery or scratch off tickets, and/or spending time and money on gambling apps on their phone. 
The Mid-Hudson Problem Gambling Resource Center wants to help you find balance in your life so that when life throws a curve ball at you, you don't fall into a pattern of escaping to heal your wounds. Here are some ways you can find balance:
Call us at 914-215-6440 if you

or a loved one

is

struggling with

a

gambling problem

. W

e can connect you to a therapist, support group, or any other

related services you may need. 

Set boundaries for

yourself.

Listen to music to calm or clear your head

space.

De-clutter your life, make room for new

beginnings.
Practice deep breathing

.

Listen to a self-help

podcast.
There is no better time than the present to find balance in our lives and recommit to ourselves.  Let us help you find that balance. Call us!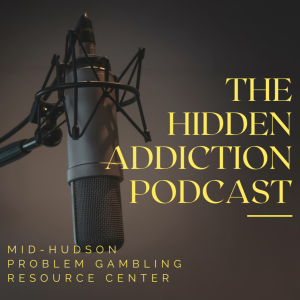 Lastly, we wanted to thank all our community partners who participated in Problem Gambling Awareness Month.  We appreciate them participating in Screening Day, posting on social media, and spreading the word about gambling addiction.  Their help allows us to reach and help more people. 
Check out our new Podcast– The Hidden Addiction on Anchor or Spotify.
About:
The Mid-Hudson Region PGRC is a program of the New York Council on Problem Gambling, which is funded by the New York State Office of Addiction Services and Supports.  The Mid-Hudson PGRC is dedicated to addressing the issue of problem gambling within the Mid-Hudson New York region through increasing public awareness and connecting those adversely affected with services that can help them.
The Mid-Hudson PGRC is dedicated to the positive transformation of lives harmed by problem gambling. This vision of transformation includes individuals with a gambling problem as well as their families and communities. With a focus on supporting the individual and reducing barriers to care, the Mid-Hudson PGRC is truly the premier organization providing problem gambling services in the Mid-Hudson region of New York State.