Call or Text NOW for Help


(914) 

2

15-6440




Mid-HudsonPGRC@NYProblemGambling.org
What's New:
Restoration means the action of returning something to a former owner, place, or condition.  Restorative practices mean to restore, to fix, to heal something that was broken, harmed, or dismantled.  There is a movement that is growing in communities, and it is restorative practices.  This movement wants to heal communities by having conversations about how a person's behavior can impact an individual, family, or society.   Ask yourself what in my life needs to be restored? Who in my life did I harm? How can I fix the harm in my life?
Behaviors whether big or small have a chance to impact someone or something. In the world of gambling addiction, we speak about the impact that gambling has; how does this addiction impact the individual, family, or society?  Here are some examples of the impact:
Individually
Creates problems with loved ones

Mental health issues arise 

Can bankrupt or damage a person's financial stability
Family
Causes the family or loved one to develop anxiety or depression

Builds distrust in the family dynamic 

Loved ones can become victims of domestic violence due to the gambler's aggression. 
Society
Some may result to committing a crime due to their willingness to get back the money

 lost

The cost of treatment, court appearances, and other health-related costs can be a burden on the taxpayer.
We are not speaking on the impact to place shame or guilt on any party, rather than shine a light on an important issue that we all can have a hand in healing communities. That is the purpose of restorative practices, creating ways to restore individuals, relationships, and communities.   We want to hear from you, how are you making strides to bring restoration to your community?
Concerned about your loved one's gambling, click here to register for our online family group. This month the topic will be How do I set consequences to reduce unwanted behaviors?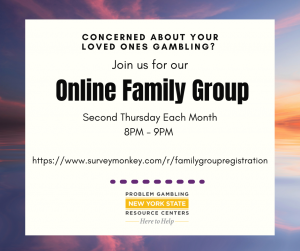 Be sure to like, follow, and or share our information on our social media pages  Facebook and Instagram.  As well as support our podcast The Hidden Addiction on Google, Apple  Anchor, or Spotify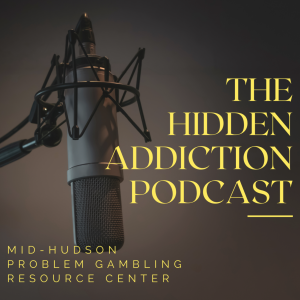 About:
The Mid-Hudson Region PGRC is a program of the New York Council on Problem Gambling, which is funded by the New York State Office of Addiction Services and Supports.  The Mid-Hudson PGRC is dedicated to addressing the issue of problem gambling within the Mid-Hudson New York region through increasing public awareness and connecting those adversely affected with services that can help them.
The Mid-Hudson PGRC is dedicated to the positive transformation of lives harmed by problem gambling. This vision of transformation includes individuals with a gambling problem as well as their families and communities. With a focus on supporting the individual and reducing barriers to care, the Mid-Hudson PGRC is truly the premier organization providing problem gambling services in the Mid-Hudson region of New York State.