Call NOW for Help
(929) 222-9566

Happy National Hispanic Heritage Month from the Bronx PGRC
September 15- October 15.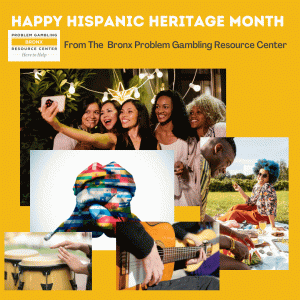 Dedicated Spanish-speaking clinicians are available for one on one sessions. The Bronx PGRC can also assist with connecting to Spanish-speaking support groups, such as Smart Recovery.
Did you know that October is also National Italian-American Heritage Month?  Let's Celebrate!!!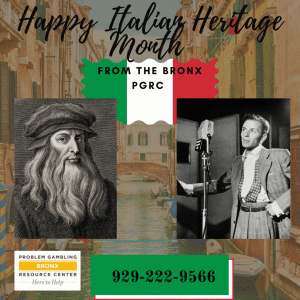 If you are struggling with gambling activities and unclear if it is becoming a burden click link: E-Screener – Problem Gambling Resource Centers (nyproblemgamblinghelp.org)
e-screeners are available in Spanish as well.
What's New:

The New York Council on Problem Gambling is excited to host our second Virtual Annual Conference. The NYCPG focus this year will be on partners and supporters of problem gambling efforts in NYS. Join hundreds of professionals in the fields of prevention, treatment, and recovery, as well as individuals, family members, educators, administrators, researchers, and more. If you are eager to learn something new about problem gambling and to connect with like-minded individuals, this event is sure to educate and inspire you. Walk away with tips and strategies to implement in your field and new connections to help you advance the NYS movement to help individuals and families affected by problem gambling.
Click to register: $20.00
About:
The Bronx Problem Gambling Resource Center is a program of the New York Council on Problem Gambling, which is funded by the New York State Office of Addiction Services and Supports.  The Bronx PGRC is dedicated to addressing the issue of problem gambling in the Bronx through increasing public awareness and connecting those adversely affected with services that can help them.
The Bronx Problem Gambling Resource Center is dedicated to the positive transformation of lives harmed by problem gambling. This vision of transformation includes individuals with a gambling problem as well as their families and communities. With a focus on supporting the individual and reducing barriers to care, the Bronx PGRC is truly the premier center for providing problem gambling services in Bronx, NY.