Call NOW for Help

(929) 222-9566

New Year, New You: Resources for Problem Gambling
New Year is a time to make resolutions, change things that we want to be different in our lives, and set the course for a better year. If you are having problems with your gambling, it may be something you want to change. It may affect your finances, your relationships with family, and your mental health among other things.  
If you are lying about how much you are gambling or going back time after time to chase your losses, these may be indicators that you are experiencing a problem with gambling. Sometimes gambling can become hard to control and can cause a lot of stress in your life. If this is the case for you, New Year is the perfect time to reach out for support and resources.
Setting New Year Resolutions
It can be overwhelming to set a resolution of reaching out for support for your gambling, but the New York State Problem Gambling Resource Centers can help you navigate the resources. It may feel like you are alone, but know that there are many people here to help you.  
Read the full article on our new blog: New Year, New You! – Problem Gambling Resource Centers (nyproblemgamblinghelp.org)
Mobile Sports Betting and Problem Gambling
We know you are busy this time of
year but, mobile sports betting will be here sooner than we are ready.  learn more.
We are concerned NYS is not prepared for the consequences that will face many families.  We are concerned about the young people who will be bombarded with free offers and enticing ads. We are concerned about the credit card debt, financial ruin, family struggles, and the potential for suicide that so many entertain as an option for a way out of the chaos they are living when they have a gambling problem.   As lawmakers it is important you are educated about this issue.  Your constituents WILL be impacted.  Please take a few minutes to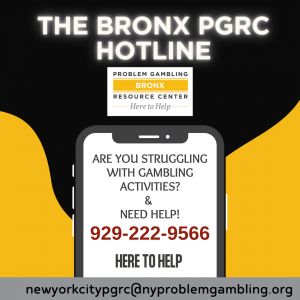 If you are struggling with gambling activities and unclear if it
is becoming a burden click link: E-Screener – Problem Gambling Resource Centers (nyproblemgamblinghelp.org)
e-screeners are available in Spanish as well.
About:
The Bronx Problem Gambling Resource Center is a program of the New York Council on Problem Gambling, which is funded by the New York State Office of Addiction Services and Supports.  The Bronx PGRC is dedicated to addressing the issue of problem gambling in the Bronx through increasing public awareness and connecting those adversely affected with services that can help them.
The Bronx Problem Gambling Resource Center is dedicated to the positive transformation of lives harmed by problem gambling. This vision of transformation includes individuals with a gambling problem as well as their families and communities. With a focus on supporting the individual and reducing barriers to care, the Bronx PGRC is truly the premier center for providing problem gambling services in Bronx, NY.