Call NOW for Help
(929) 222-9566


Recovery is for Everyone 
This September the Bronx PGRC is excited to celebrate Recovery Month! The National Recovery Month theme for 2021 is "Recovery is for Everyone: Every Person, Every Family, Every Community" because it reminds us all that people in recovery from problem gambling and those who support them, that recovery belongs to us all. Recovery is for everyone because it benefits everyone.   The Bronx PGRC is proud to share the National Recovery Month theme and adopt it as our own.
While it may be tempting to characterize recovery as a universal experience or single journey, our community is proof that there are as many pathways to and of recovery as there are people. Our strength is our diversity and because of who we are, the recovery community has unique opportunities to learn, challenge, grow, and dream. Problem gambling does not impact every person in the same way, so it is with that same uniqueness that people find their paths to recovery.
THE FACTS: 
Gambling disorder is most often occurring with individuals who also have anxiety disorders and depression disorders
Only about 10% of people with a gambling disorder reach out for help
Recovery is possible and there are many pathways to get there
Relief In Recovery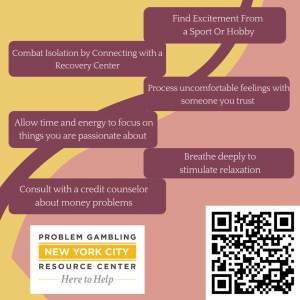 What's New:
If you are struggling with gambling activities and unclear if it is becoming a burden click link: E-Screener – Problem Gambling Resource Centers (nyproblemgamblinghelp.org)
About:
The Bronx Problem Gambling Resource Center is a program of the New York Council on Problem Gambling, which is funded by the New York State Office of Addiction Services and Supports.  The Bronx PGRC is dedicated to addressing the issue of problem gambling in the Bronx through increasing public awareness and connecting those adversely affected with services that can help them.
The Bronx Problem Gambling Resource Center is dedicated to the positive transformation of lives harmed by problem gambling. This vision of transformation includes individuals with a gambling problem as well as their families and communities. With a focus on supporting the individual and reducing barriers to care, the Bronx PGRC is truly the premier center for providing problem gambling services in Bronx, NY.