Call NOW for Help
(917) 994-8377

What's New:
Hello Brooklyn!!
As Spring is ending and we are headed into Summer, we would be remiss if we did not acknowledge the fantastic relationships that have been blooming throughout the month of May.  Let us take this time to look back and reflect on the many positive relationships developed over the past few weeks:
A special THANK YOU to Tilden Houses Tenant Association and President Ms. Boone, NYPD 73rd Precinct Deputy Inspector Anderson and Sergeant Howard and NYPD PSA2 Commanding Office Griffith and Detective Walter Brant, The Campaign Against Hunger, East Flatbush Community Partnership (Director: Lamacca Holmes and Community Organizer: Ms. Cindy Reid), NYPD 73rd Precinct Brownsville Safety Alliance and MetroPlus.
Here are some of the photos taken this month at our partner events: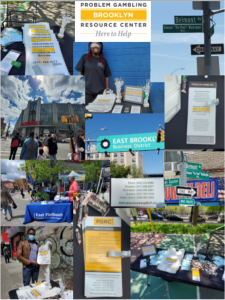 This month we recognize May is Mental Health Awareness month and The New York Council on Problem Gambling is committed to connection people in need of support services.
Did you know….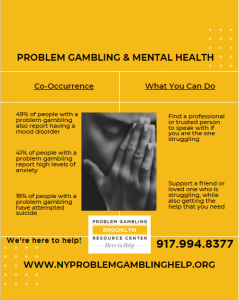 If you or someone you know is interested in joining our clinician network, click here to view our Eligibility Requirements.
About:
The Brooklyn Problem Gambling Resource Center is a program of the New York Council on Problem Gambling, which is funded by the New York State Office of Addiction Services and Supports.  The Brooklyn PGRC is dedicated to addressing the issue of problem gambling in Brooklyn through increasing public awareness and connecting those adversely affected with services that can help them.
The Brooklyn Problem Gambling Resource Center is dedicated to the positive transformation of lives harmed by problem gambling. This vision of transformation includes individuals with a gambling problem as well as their families and communities. With a focus on supporting the individual and reducing barriers to care, the Brooklyn PGRC is truly the premier center for providing problem gambling services in Brooklyn, NY.