Call NOW for Help
(929) 955-3061

What's New: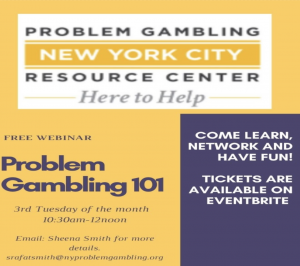 March is Problem Gambling Awareness Month (PGAM). To spread awareness, the Manhattan PGRC is hosting a Problem Gambling 101 webinar on March 16th from 10:30am to 12pm.  Tickets are available on Eventbrite.
Also, I would like to give a special shout-out to the following agencies that welcomed me to speak at their meetings for PGAM, which include:
HCCI 

 

Phipps House

 

Manhattan

C

ouncil

Freedom institute

 

Heritage Health 

 

Green

h

ope 

S

ervices 

 
About:
The Manhattan Problem Gambling Resource Center is a program of the New York Council on Problem Gambling, which is funded by the New York State Office of Addiction Services and Supports.  The Manhattan PGRC is dedicated to addressing the issue of problem gambling in Manhattan through increasing public awareness and connecting those adversely affected with services that can help them.
The Manhattan Problem Gambling Resource Center is dedicated to the positive transformation of lives harmed by problem gambling. This vision of transformation includes individuals with a gambling problem as well as their families and communities. With a focus on supporting the individual and reducing barriers to care, the Manhattan PGRC is truly the premier center for providing problem gambling services in Manhattan, NY.