Can't stop gambling? Help for a gambling problem is Available in Staten Island. 
Call Us to Learn About Your Options
(929) 955-3062
A Message to You: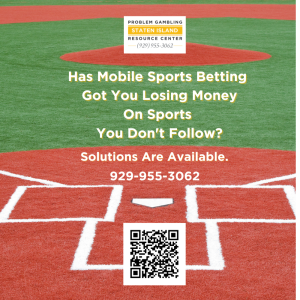 Is gambling causing problems in your life? Are you worried about how you will get through the day without the excitement of placing a bet?
Is a loved one's gambling behavior impacting your life? Or has your loved one asked you to seek help?
Gambling can be a fun activity, but it can also cause mounting problems of its own.
Has gambling been causing you more stress than fun? If you suspect that gambling is making your life worse in any way and are ready to meet the challenge and take the journey of exploring this further, our team is here. When you are ready, give us a call for a confidential chat.
You're Not Alone!
Jamie is a fellow Staten Islander, whose gambling behavior once brought her despair. She has now found hope. Read here story here: Jamie's Recovery Story
Save the Dates! Upcoming SI PGRC Events
September is Recovery Month, and here is what we have coming up: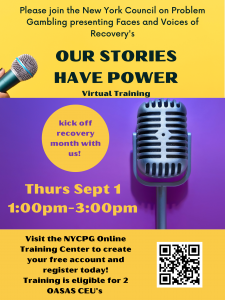 We will also be tabling at the South Shore Community Food Pantry on Tuesday September 6 and the SI CASA Recovery Walk on September 25! Stay tuned for more information about these upcoming events.
Why Screen for Problem Gambling?
Check out our videos that highlight the benefits of screening for problem gambling in chemical dependency, mental health, and healthcare settings.
Recovery Month Resources for People in Recovery from a Gambling Problem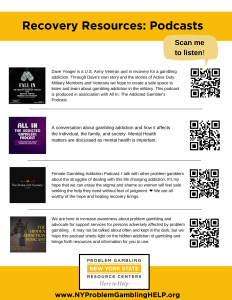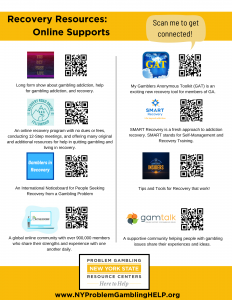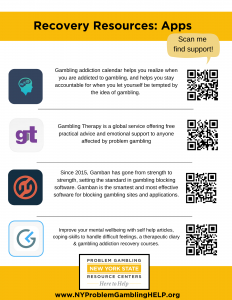 Save the Dates! Upcoming PGRC Events
We will have a table at SI CASA's Recovery Walk! Come join us to show your support for local community members in recovery from an addiction. TYSA SI CASA Recovery Walk & Health Fair_updated8.10
We are hosting another Our Stories Have Power Training in Collaboration with TYSA. This interactive training is open to people in recovery from any addiction, as well as loved ones and allies. Participants will learn how to share the reasons why recovery is important to them, using language and communication strategies that are empowering and non-stigmatizing. CASAC CE credits are available! Scan the QR code on the attached flyer to register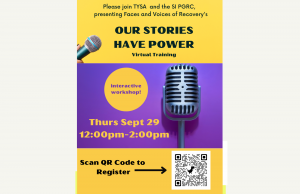 Concerned About a Loved One's Gambling Problem?
Are you concerned about the impact that a loved ones' gambling is having on themselves, on you, and/or on your family. Here are some tips on starting the conversation. We can help loved ones of people with a gambling problem too.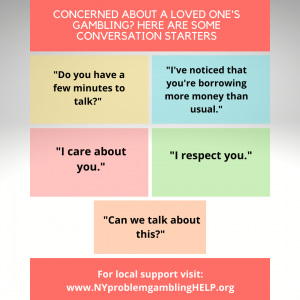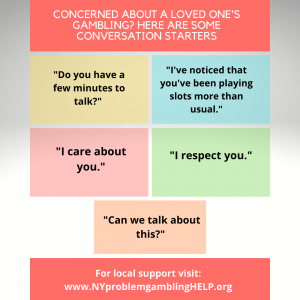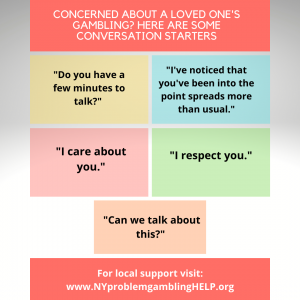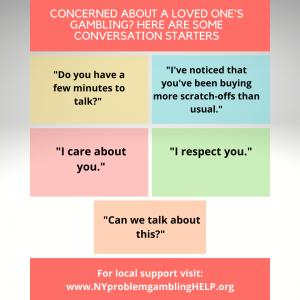 About:
The Staten Island Problem Gambling Resource Center is a program of the New York Council on Problem Gambling, an independent not-for-profit agency, which is funded by the New York State Office of Addiction Services and Supports.  The Staten Island PGRC is dedicated to addressing the issue of problem gambling in Staten Island through increasing public awareness and connecting those adversely affected with services that can help them.
The Staten Island Problem Gambling Resource Center is dedicated to the positive transformation of lives harmed by problem gambling. This vision of transformation includes individuals with a gambling problem as well as their families and communities. With a focus on supporting the individual and reducing barriers to care, the Staten Island PGRC is truly the premier center for providing problem gambling services in Staten Island, NY.