Looking for help with Problem Gambling and Sports Betting?
Problem Gambling Resource Centers Offer:
 Connections to Gambling Addiction and Sports Betting Counseling and Treatment
(One-on-one Therapy Sessions, Peer Support Groups, and Clinician Led Groups)
Educational Presentations and Trainings on Gambling Harms
Screening and Assessment Tools
Recovery Resources
Downloadable Resources and Toolkits
Avoiding Gambling Harm During the Holidays
The holidays can be a joyous festive season, but they can also be stressful and especially challenging for those impacted by gambling harm and addiction. Opportunities to gamble seem endless with access right at our fingertips.
Here are a few tips to help you and your loved ones avoid holiday gambling triggers: Make a plan for navigating uncomfortable situations and potential triggers by setting boundaries for yourself, your finances, and with your loved ones regarding potential gifts and environmental triggers. Remember to lean on your personal recovery toolkit whether that's learned coping skills or leaning on your support system. Click here to read our Letter to the Editor to learn more about Avoiding Gambling Harm and Triggers.
Recovery from Gambling Harm is Possible!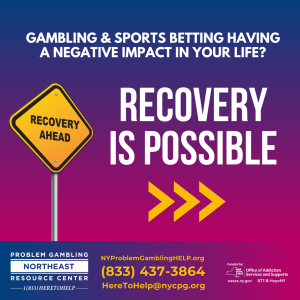 With the new year approaching, many of us begin to reflect on this past year, our progress, setbacks, and goals we are still working towards especially when it comes to our relationship with gambling. The new year offers a fresh start and an opportunity to develop healthy habits to avoid gambling harm. This could mean getting started or back on the road to recovery and overall wellness from problem gambling and disordered gambling.
While recovery goals and treatment resolutions are not always easy, they're definitely worth the effort! Building healthy habits, and coping tools, and finding professional and community support can provide you with a new lease on life, enrich your relationships, and give you more time and energy for the activities that bring you joy. Email, call, or even text your local Problem Gambling Resource Center at (833) 437-3864 to learn about resources and support near you.
NYCPG Launches VSE Support Program
Voluntary Self-Exclusion (VSE) programs are available in New York State to help individuals experiencing problems related to casino gambling and sports betting. Through VSE, you can voluntarily exclude yourself from either or both activities for a predetermined amount of time. This is a helpful tool for individuals seeking to address their gambling behaviors.
We are proud to share that NYCPG is now offering free support to help folks complete the VSE process. If you want to learn more about VSE and how it can help you, please contact us at 518-903-0217 or send an email to [email protected]. We are here to provide you with the necessary information and guidance to make the most of this program.
PG Recovery Podcasts:
Looking for more PG Resources, check out these Problem Gambling Podcasts: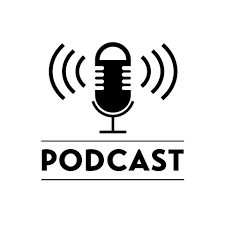 Learn with us! If your organization is interested in learning more about problem gambling through in-person or virtual training, email us at [email protected].
About the Northeast Problem Gambling Resource Center
The Northeast Problem Gambling Resource Center is a program of the New York Council on Problem Gambling, which is funded by the New York State Office of Addiction Services and Supports. At Northeast PGRC, our goal is to address problem gambling within the Northeastern region of New York by raising public awareness and connecting individuals, families, and communities adversely impacted to support and services. Our team is dedicated to reducing barriers to care for our communities.
Counties include: Albany, Clinton, Columbia, Essex, Franklin, Fulton, Greene, Hamilton, Montgomery, Rensselaer, Saratoga, Schenectady, Schoharie, Warren, Washington
Join Our Clinical Referral Network
The professionals in our Clinical Referral Network are vital to our ability to connect individuals and families negatively impacted by gambling and sports betting to care. Interested in joining our referral network, click here to learn more.