Call NOW for Help
(518) 801-1491
What's New:
Spring has sprung. As the buds begin to blossom and flowers begin to bloom, it reminds us that things must grow and change and adapt in order to bloom. We here at the Northeast PGRC are seeking assistance so we can continue to grow and improve as well. We need your help!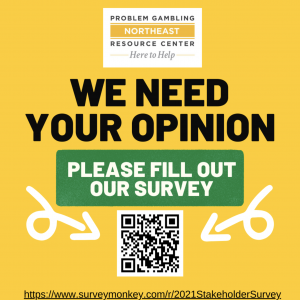 We are asking people to consider taking a few moments of your time, 5-10 minutes, to complete a brief questionnaire. This goal of the questionnaire is to collect information about the perceptions and opinions of problem gambling in communities across New York State and to gauge how communities are addressing the issue. The questionnaire contains questions about the perceptions of gambling activity and problem gambling in communities; questions about available resources and associated needs; and asks participants to gauge the knowledge of the issue and resources within their community.  
We will be using this information for needs assessment, program planning and evaluation purposes only. 
The responses are completely anonymous. No identifying information is being collected through this survey. Individual responses will be kept confidential and will not be used publicly. All questions are optional. We hope to gather feedback from anyone who feels they serve their community in some way – this could be on a personal or professional level. 
Here is a link to the brief questionnaire: https://www.surveymonkey.com/r/2021StakeholderSurvey. We will be collecting information through the end of May.  
Thank you for taking the time to complete and share with others! We appreciate your continued support of our efforts to help raise awareness and connect people to supports and services for problem gambling. 
About:
The Northeast Problem Gambling Resource Center is a program of the New York Council on Problem Gambling, which is funded by the New York State Office of Addiction Services and Supports.  The Northeast PGRC is dedicated to addressing the issue of problem gambling within the Northeastern New York region through increasing public awareness and connecting those adversely affected with services that can help them.
The Northeast Problem Gambling Resource Center is dedicated to the positive transformation of lives harmed by problem gambling. This vision of transformation includes individuals with a gambling problem as well as their families and communities. With a focus on supporting the individual and reducing barriers to care, the Northeast PGRC is truly the premier organization providing problem gambling services in the Northeastern region of New York State.