If you or a loved one would like help with a gambling problem, call
518-801-1491
or email us today at
NortheastPGRC@NYProblemGambling.org
The Northeast PGRC is HERE TO HELP!
All calls are confidential.
We offer a variety of resources for both individuals and family members impacted by problem gambling. Our services are confidential. We can help cover the cost of treatment, if needed.
SERVICES AVAILABLE:
ONE TO ONE THERAPY SESSIONS 

Available to the individual having difficulties with gambling and their families. Financial assistance available. Telehealth available.

PEER SUPPORT GROUPS

Group recovery support. Available in-person, via zoom or phone.

CLINICIAN LED GROUPS

Led by our specially trained Problem Gambling Treatment providers.

ONLINE RESOURCES

Available to individuals and family members.
*Do you know someone who may need help with their gambling? Here are some of the WARNING SIGNS of problem gambling. We are here to help answer all of your questions!
What's New: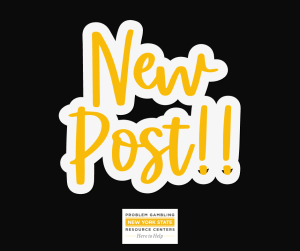 PGRC Blog – The Problem Gambling Resource Centers now have a blog! Check it out here: https://nyproblemgamblinghelp.org/blog/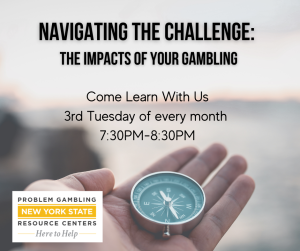 Peer Supports Available!  The NY Council on Problem Gambling is offering a monthly peer lead support group that offers mutual aid and support from our very own Scott Meyer, who is a Certified Recovery Peer Advocate (CRPA-P). To register click here: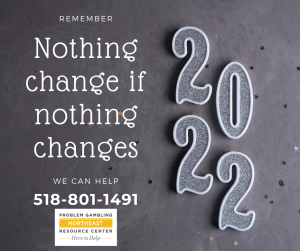 What's New in 2022!
As we enter the New Year, we're excited about the new opportunities and partnerships that lie ahead. Be sure to check out our website often, as we will keep you up to date on the latest happenings of the Northeast PGRC! 
The New Year is often about setting goals and resolutions. If you are struggling with gambling, now is the time to get support. The Northeast PGRC can help you reach those goals. 
What we do – Our goals at the Northeast PGRC are simple: we increase public awareness of the issue of problem gambling and we help connect anyone impacted by problem gambling to services. 
What we can do for YOU – There are a variety of ways in which we can achieve our goals. Here are some ways we can support you, so we can help others.  
INDIVIDUALS – If you're struggling because of problem gambling, you are not alone. Help is available. Recovery is possible. We know that problem gambling impacts so many areas of your life. Reach out for help. There are a variety of resources we can connect you with. Services are accessible and at no cost to you. Recovery is possible, especially when you've got supports in place. 
FAMILY MEMBERS – Problem Gambling impacts the whole family. We're here to support you, too. If your family member's gambling is causing problems in your life, or you want to learn how to help them find recovery, we have resources that can help. We're happy to connect you to the services that are right for you and your loved one, at no cost. Recovery is possible for families too! 
PROFESSIONALS – Problem Gambling can impact anyone at any time. We can help you learn more about the impact of problem gambling on the individuals and families you work with. We have a variety of tools to help assist you in identifying individuals who might be in need of treatment for problem gambling.  
Screening tools – Does your organization screen for problem gambling? There are a variety of simple screening tools you can use. Access screening tools here: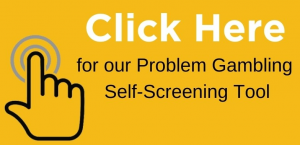 Education – We offer a variety of free in-person and virtual training opportunities. Contact Brandy Richards to schedule a training for your students, staff or community members – brichards@nyproblemgambling.org 
Outreach – We have a variety of resources and materials to help you and others learn about what problem gambling is, how it can affect different populations, and warning signs to look for. Contact us to get yours today: NortheastPGRC@NYProblemGambling.org  
Show your support – Do you care about problem gambling? Get your partner seal here: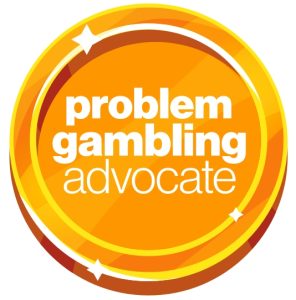 https://www.dropbox.com/sh/iadsfq06cic5jby/AABGIptX_cmw9_vHkhRt6HPDa?dl=0 
Join our efforts – To learn more about how YOU can help us, help others, email us at NortheastPGRC@NYProblemGambling.org 
We're here to help! 
Happy New Year! 
About:
The Northeast Problem Gambling Resource Center is a program of the New York Council on Problem Gambling, which is funded by the New York State Office of Addiction Services and Supports.  The Northeast PGRC is dedicated to addressing the issue of problem gambling within the Northeastern New York region through increasing public awareness and connecting those adversely affected with services that can help them.
The Northeast Problem Gambling Resource Center is dedicated to the positive transformation of lives harmed by problem gambling. This vision of transformation includes individuals with a gambling problem as well as their families and communities. With a focus on supporting the individual and reducing barriers to care, the Northeast PGRC is truly the premier organization providing problem gambling services in the Northeastern region of New York State.