Call NOW for Help
(518) 801-1491
What's New:
Our theme is EXCITEMENT and FIRSTS! We have so many things to share that we just couldn't wait a whole month. So here you go! Take a look at some of the "firsts" we've had the pleasure of experiencing. 
We couldn't be more excited to share with you our first ever podcast! We were invited to be guests on All In: The Addicted Gambler's Podcast. If you haven't had the opportunity to listen to this podcast before, we encourage you to do so! It started with one gambler's story (Brian Hatch) and has grown to over 150 episodes of gambling addiction discussions.
We want to give a huge shout out to our amazing host Brian Hatch and his colleague Jeffery Wasserman for making us feel so welcomed and at ease. If you're interested in learning more about what we do here at the Northeast PGRC we encourage you to take a listen: All In: The Addicted Gambler's Podcast with Robin Fetterman and Brandy Richards from the Northeast PGRC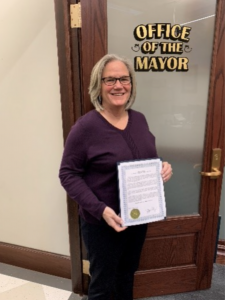 As you already know March is Problem Gambling Awareness Month – our favorite month of all! We are kicking off this year's theme of Facing Problem Gambling Together by sharing our very first signed proclamation! Pictured below is Mayor Meg Kelly of the City of Saratoga Springs, NY holding her signed proclamation showing her support of Problem Gambling Awareness Month. Thank you, Mayor Kelly for taking action and helping us raise awareness about this important public health issue. We appreciate your continued support of the work we do.
For more information about ways, you and your organization can take part in Problem Gambling Awareness Month, please visit our website at NYProblemGambling.org/PGAM.  
Join us and let's Face Problem Gambling Together! Let this year be your "first" but not your last! Give us a call at 518-801-1491!

About:
The Northeast Problem Gambling Resource Center is a program of the New York Council on Problem Gambling, which is funded by the New York State Office of Addiction Services and Supports.  The Northeast PGRC is dedicated to addressing the issue of problem gambling within the Northeastern New York region through increasing public awareness and connecting those adversely affected with services that can help them.
The Northeast Problem Gambling Resource Center is dedicated to the positive transformation of lives harmed by problem gambling. This vision of transformation includes individuals with a gambling problem as well as their families and communities. With a focus on supporting the individual and reducing barriers to care, the Northeast PGRC is truly the premier organization providing problem gambling services in the Northeastern region of New York State.