The New York Council on Problem Gambling Annual Conference
In March we celebrate Problem Gambling Awareness Month (PGAM). This year in addition to PGAM, we will also be holding the New York Council on Problem Gambling's Annual Conference. The conference will be held this year virtually on March 9th and 10th. We want you to join us as together we can work to advocate for problem gamblers and their families. 
What to Expect at the Annual Conference
The Annual Conference on Problem Gambling  brings together people from all over the world in the fields of prevention, treatment, and recovery, as well as individuals, family members, educators, administrators, researchers and more. If you are eager to learn something new about problem gambling and want to connect with likeminded individuals, this event will educate and inspire you. Walk away with tips and strategies to implement in your field and new connections to help you advance the NYS movement to help individuals and families affected by problem gambling. Together we can do this!  
What our Partners are saying 
The reason we do the work we do is because of others. If you need a reason to attend the annual problem gambling conference, just hear what our partners have to say!  
"I think the conference would be great to attend as there will be so many people there discussing their story and how they have received help. I know for me, the more I tell my story the more it helps in my recovery. You are not alone and when you surround yourself with support it definitely helps."  
                                                                                                                      – Kelly D, Family Member of Someone in Recovery  
"Because there are so few resources devoted to addressing problem gambling, we have to be very strategic in our approaches.  The annual conference is always full of cutting-edge information delivered by top notch presenters from our field. It is always well worth the time"  
                                                                                                                  – Matt Smith, Executive Director Preventionfocus, Inc 
"The annual conference works raise awareness of the current situation of problem gambling by bringing together experts on problem gambling, government officials, policy-makers, and mental health practitioners to share information and help foster social responsibility for problem gambling. The conference is also a source of information and hope for those struggling with problem gambling, as well as for their family members."  
                                                   – Fred Doulton, Long Island PGRC (Problem Gambling Resource Center) Clinician  
Join Us
The NYCPG Annual conference on Problem Gambling will be held virtually this year on March 9th and 10th. We hope you will join us. The more we educate ourselves about problem gambling, the better we can advocate for those that are struggling.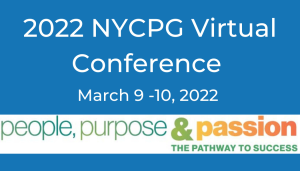 If you are in recovery or a family member of someone in recovery, be sure to join us and inquire about our recovery scholarship.