Call NOW for Help
(585) 351-2262

FingerLakesPGRC@NYProblemGambling.org
What's New:
Our latest podcast episode on the dangers of underage gambling is now live at FingerLakes1.com.  We chat with Karen from United Way Seneca County, and her son, Casey.   
We are excited to be offering problem gambling training this month to our friends over at Creative Wellness Opportunities through the Mental Health Association of Rochester, as well as with members of Lifelong Care in Ithaca!  
We will be sharing facts throughout 2021 on our Instagram page! Check us out and give us a follow at @Finger_Lakes_PGRC.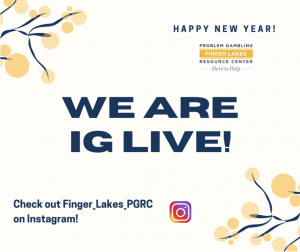 About:
The Finger Lakes Region PGRC is a program of the New York Council on Problem Gambling, which is funded by the New York State Office of Addiction Services and Supports.  The Finger Lakes PGRC is dedicated to addressing the issue of problem gambling within the Finger Lakes New York region through increasing public awareness and connecting those adversely affected with services that can help them.
The Finger Lakes PGRC is dedicated to the positive transformation of lives harmed by problem gambling. This vision of transformation includes individuals with a gambling problem as well as their families and communities. With a focus on supporting the individual and reducing barriers to care, the Finger Lakes PGRC is truly the premier organization providing problem gambling services in the Finger Lakes region of New York State.