Call NOW for Help
(585) 351-2262

FingerLakesPGRC@NYProblemGambling.org
What's New:
Our Program Managers visited with staff from the Veterans Outreach Center, Inc. in Rochester to talk about the impact problem gambling has on our veterans.  We're looking forward to partnering with them in the future to help raise awareness among veterans and their loved ones!
We were recently interviewed by Spectrum News Rochester about underage gambling and how we all can play a part in raising awareness about the dangers to parents and youth. Thank you Marcy for joining us as a voice for parents.
Our team had a fantastic meeting with Congressman Joe Morelle to introduce our programming and discuss what problemgambling looks like. Together, we can raise awareness on how community members can get help who have a problem.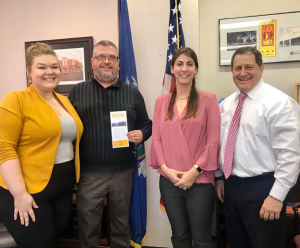 About:
The Finger Lakes Region PGRC is a program of the New York Council on Problem Gambling, which is funded by the New York State Office of Addiction Services and Supports.  The Finger Lakes PGRC is dedicated to addressing the issue of problem gambling within the Finger Lakes New York region through increasing public awareness and connecting those adversely affected with services that can help them.
The Finger Lakes PGRC is dedicated to the positive transformation of lives harmed by problem gambling. This vision of transformation includes individuals with a gambling problem as well as their families and communities. With a focus on supporting the individual and reducing barriers to care, the Finger Lakes PGRC is truly the premier organization providing problem gambling services in the Finger Lakes region of New York State.