Call NOW for Help
(585) 351-2262

FingerLakesPGRC@NYProblemGambling.org
What's New:
We were very fortunate to have met with the wellness team from Regional Transit Service (RTS).  We can't wait to work more with this group to educate their employees about problem gambling and that help is right in their backyard!  RTS also covers several Western PGRC counties, so we are excited to get everyone connected with PGRC resources.
We would like to extend our gratitude to Assembly member Harry Bronson.  When we met, the PGRC shared programming and resources to help raise awareness of problem gambling in our region!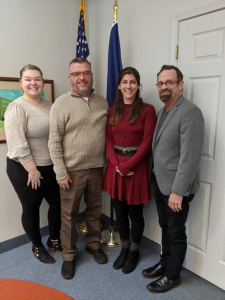 Community Outreach Recovery Enhancement (CORE) Center invited us to join their community group to talk about problem gambling.  It was a fantastic conversation among some staff and local residents!
Afterwards, we breezed over to the Monroe Community College Downtown Campus.  We we welcomed to enlighten some of our young minds on problem gambling, with a special focus on how it negatively impacts college students.
Thank you to both organizations for inviting us to come in!
About:
The Finger Lakes Region PGRC is a program of the New York Council on Problem Gambling, which is funded by the New York State Office of Addiction Services and Supports.  The Finger Lakes PGRC is dedicated to addressing the issue of problem gambling within the Finger Lakes New York region through increasing public awareness and connecting those adversely affected with services that can help them.
The Finger Lakes PGRC is dedicated to the positive transformation of lives harmed by problem gambling. This vision of transformation includes individuals with a gambling problem as well as their families and communities. With a focus on supporting the individual and reducing barriers to care, the Finger Lakes PGRC is truly the premier organization providing problem gambling services in the Finger Lakes region of New York State.