Call NOW for Help
(585) 351-2262

FingerLakesPGRC@NYProblemGambling.org
What's New:
Thanks to the continuous partnership from our statewide EAP program, the Finger Lakes PGRC was able to successfully deliver our "Problem Gambling and The EAP Professional" training to over 25 regional EAP Coordinators!
Our team recently traveled to Endwell, NY to present to the Security and Fraud Committee of the Southern Tier.  Thank you for your thought-provoking questions on how problem gambling can affect the finances of individuals and loved ones.
We love when our local community partners reach out to us for problem gambling training!  The Finger Lakes PGRC presented a "Problem Gambling 101" to over 20 soon-to-be CASACs at NCADD-RA.  Thank you again for inviting us to educate our future CASACs!
Our team had the privilege of meeting with our local Senator Joe Robach to raise awareness on the PGRC and how problem gambling affects the community.  Thank you again for taking the time to meet with us and share the knowledge.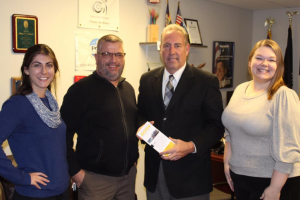 About:
The Finger Lakes Region PGRC is a program of the New York Council on Problem Gambling, which is funded by the New York State Office of Addiction Services and Supports.  The Finger Lakes PGRC is dedicated to addressing the issue of problem gambling within the Finger Lakes New York region through increasing public awareness and connecting those adversely affected with services that can help them.
The Finger Lakes PGRC is dedicated to the positive transformation of lives harmed by problem gambling. This vision of transformation includes individuals with a gambling problem as well as their families and communities. With a focus on supporting the individual and reducing barriers to care, the Finger Lakes PGRC is truly the premier organization providing problem gambling services in the Finger Lakes region of New York State.